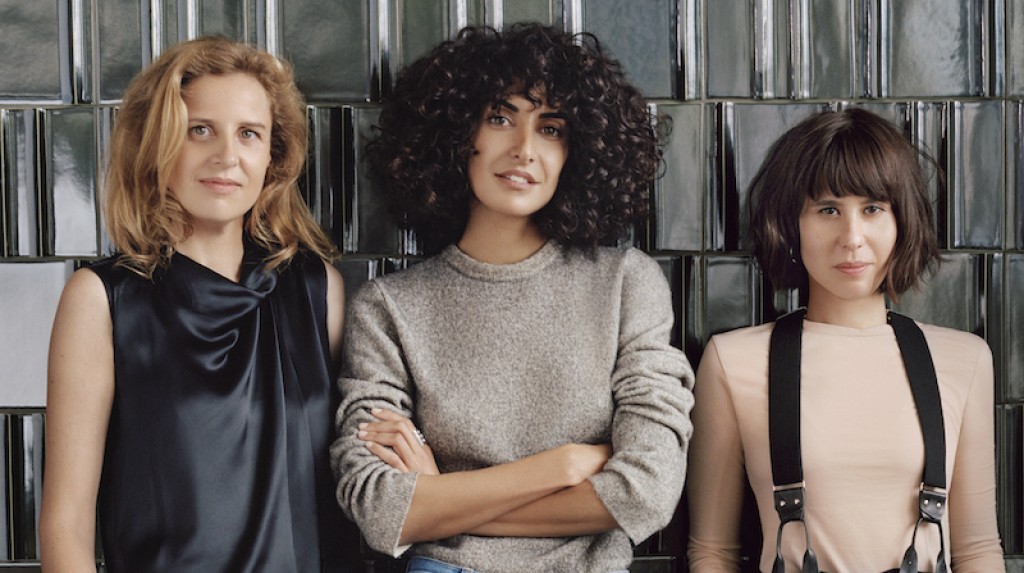 Culture can be regarded as one of the most crucial aspects of a brand in terms of sustainability, it's the mark you want to leave on the world. Not this year, but this century.
For a new agency specialising in luxury brands, impacting culture is the true measure of success.
Do you know what "the purple economy" is? If so, you're a step ahead of me, because I just heard the phrase from the lips of Brune Buonomano (centre), one of the trio heading the new French luxury agency BETC Étoile Rouge.
In short, it's about a company's cultural impact on society – something that might be considered a form of soft power. This is particularly important for luxury brands, which are forever looking for ways of adding value to their core product. "Culture can be regarded as one of the most crucial aspects of a brand in terms of sustainability," says Brune. "It's the mark you want to leave on the world. Not this year, but this century."
Brune was one of the members of BETC Luxe, which recently fused with 17-year-old luxury agency Étoile Rouge to form the new unit, now based at parent BETC's industrial-chic warehouse outside Paris. Her partners in the leadership team are Étoile Rouge founder Delphine de Canecaude, and executive creative director Jasmine Loignon, also from BETC but with a history of working on street-savvy brands at Mother and Sid Lee.
After a stint in journalism, Brune cut her teeth in advertising at Euro RSCG C&O – a forerunner of BETC – before getting embroiled in the world of luxury via the LVMH Prize for young designers. "It was an exception because I wasn't handling clients any more, I was new business. But I began to sense that I had a real thing for this."
Smitten by the challenges of luxury marketing, which often involves weaving glorious dreams out of thin air, she moved across to BETC Luxe four years ago – and apparently found her true calling. One of her smartest moves was to launch the agency's own contribution to luxury culture, the twice-yearly publication Mastermind.
Although the hardback tome resembles a fashion magazine in some respects – glossy ads and an interview with Karl Lagerfeld – it's elevated by a cerebral approach and unexpected contributors. For example, a profile of the late Donald Judd, one of the fashion crowd's go-to designers, is lent depth by the insights of his daughter, Rainer.
THE MOMENT VS. THE DECADE
The link with publishing is significant, because the merged agency's goal, says Brune, is to play a sort of editorship role for its clients, ensuring that they have a unique tone of voice, style and, above all, cultural footprint. "We say 'culture makes brands and brands make culture'."
To give an example of a cultural brand, she quotes LVMH boss Bernard Arnault, who observed that while we don't know whether iPhones will exist in a hundred years, Dom Pérignon champagne almost certainly will.
In other words, a truly cultural brand resonates through time. It's easy to accept Louis Vuitton and Dior as part of French culture, but that presence is less evident with clients such as Sephora or Accor Hotels. Of course, it's the agency's job to change that.
"We're talking about Sofitel at the moment. Today it's hard for hotels to compete with the likes of Airbnb, which offers travellers the chance to become part of local culture by living within it. But what if the very heart of Sofitel was its Frenchness, which it expresses in many different ways around the world? Then you have an identity that is cultural rather than corporate."
Having a cultural caretaker may be even more important in the digital era, when there are so many different forms of expression – and so many people waiting to either engage with you or knock you down. Brune suggests that for luxury brands communications has polarised, with Instagram posts at one end and cultural artefacts at the other. "It's almost like you need to balance two timeframes: the moment and the decade."
As for the fusion of BETC Luxe and Étoile Rouge, the obvious question is – why? For Delphine de Canecaude, the move transforms her from an entrepreneur into a leading player at one of France's most influential agencies. As she put it in the official press release: "Joining BETC Luxe was, for my team and myself, an opportunity to join the best, for their strategic force as well as their creative power."
For BETC, the merger adds additional clients, an even deeper understanding of the needs and semiotics of luxury brands, and of course talent. The unit is 70-strong, with what it calls a "micro network" of specialists in London, Zurich, Milan, Shanghai, New York and Los Angeles.
"We love non-standard talent," Brune says. "We have people from literature, cinema, cultural institutions. We mix different cultures and talents."
Jasmine Loignon, ECD and the third member of the leadership team, describes this mix as the key to the agency's ability to "surprise and amaze". It will create, she adds, "content beyond the ordinary".
Brune, Delphine and Jasmine all bring different skills to the table, and the result should be an appealing recipe for clients. "Together," says Brune, "we've created something that's bigger and better than all of us."
By Mark Tungate, editorial director